News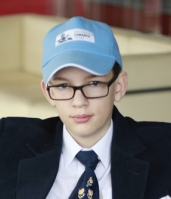 Jan-Krzysztof Duda was born (26 April 1998) in Krakow (Poland) and learnt to play chess at the age of five. He achieved grandmaster title in 2013 at the age of 15 years and 21 days, becoming the second youngest grandmaster in the world after Wei Yi at the time.
Duda won the World Youth Chess Championship in the under-10 category in 2008. In 2012 he won the Polish under-18 championship in Solina and the European U14 championship in Prague. In the same year he tied for first with Jan Krejci in the Olomouc Chess Summer tournament. In April 2013, he came first in the First Saturday GM tournament in Budapest. Duda took part as a FIDE president nominee in the Chess World Cup 2013, where was eliminated in the first round by Vassily Ivanchuk.
In August 2014, Duda played for the Polish team at the Chess Olympiad in Tromsø, Norway, scoring 8.5/11 on board three. In December 2014, he won the European Rapid Chess Championship and took silver in the European Blitz Chess Championship, both held in Wrocław, Poland.
In 2015, Duda won 2nd board at French Team Championship, won the Lake Sevan round-robin tournament in Martuni, Armenia and was 2nd at U20 World Chess Championship in Khanty-Mansiysk, Russia. His peak rating was 2663 (december 2015).
https://en.wikipedia.org/wiki/Jan-Krzysztof_Duda
Details: | Published: 23 March 2016 | Hits: 4842